We shop every time we have guests at Cascina Maddalena to ensure the freshest produce, we grow and pick our vegetables and  fruit from the garden and we cook with love and passion, so that you can taste and feel in your heart all the flavour of the products of our land on the shores of Lake Garda and its morainic hills.  We prepare the best traditional family recipes for our guests.

LISTEN TO THE SOUND OF OUR KITCHEN
Can you hear them?
Listen.
The clattering pans,
the muffled flare of the gas flame,
the stirring spoons,
the knives quickly chopping fresh seasonal vegetables,
diced to perfection.

SMELL THE AROMAS
Can you smell them?
Breathe them in.
Onions in Garda oil,
sautéed until they are soft and golden,
the scent of laurel, rosemary, and sage and
the wine that steams in the pan, ready to welcome abundant handfuls of rice.

SEE A RAINBOW OF COLOURS
Can you see it?
Look.
A rainbow of colours: green, orange, white, red,
The blood red meat,
The bright green salad and herbs,
The purple chicory,
The straw yellow Lugana wine.
A whirlwind of authentic flavours and smells of home will wellcome you when you step over the threshold of Cascina Maddalena.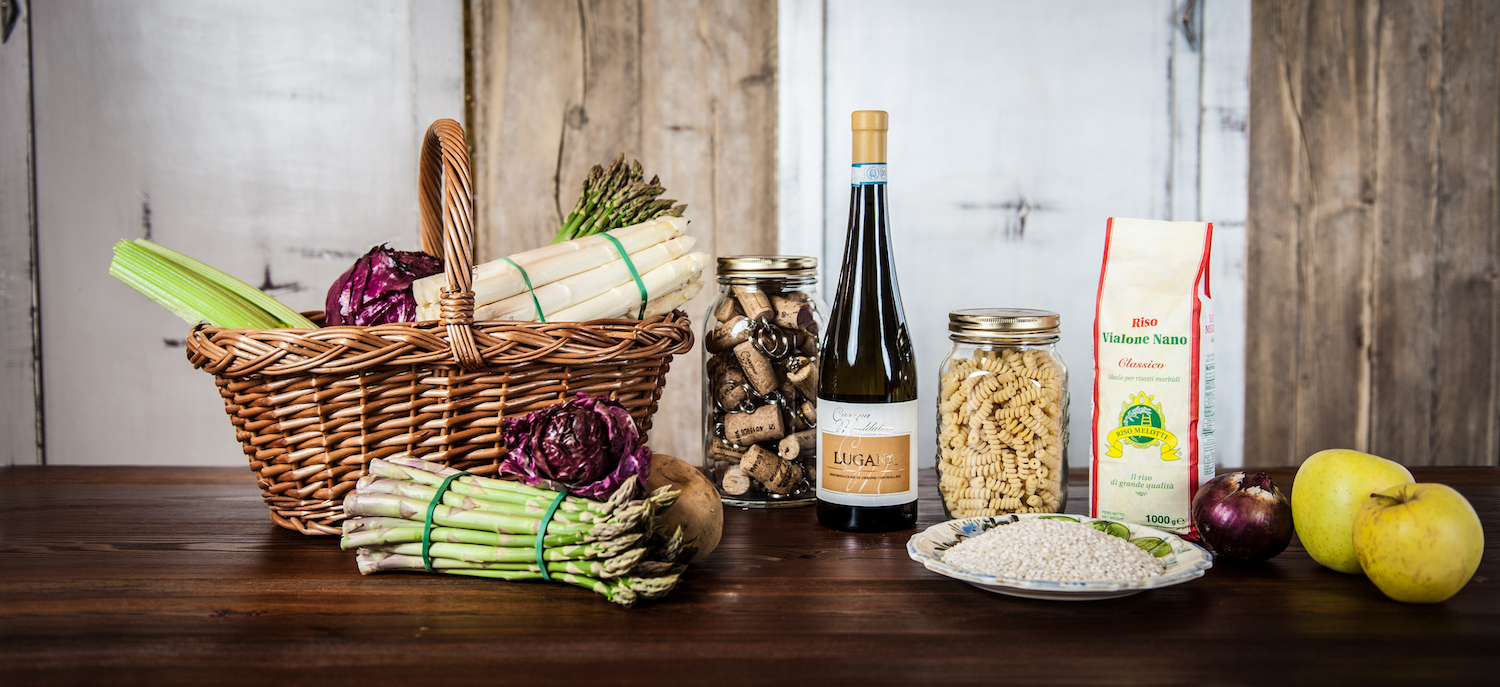 WE CHOOSE THE PRODUCTS FOR YOU WITH CARE
Elisa has done the shopping for you, carefully choosing the produce like she does when shopping for her children: fresh meat from the butcher, seasonal vegetables and fruit, all rigorously produced in the area around Lake Garda, just around the corner.
Elisa is very careful when she buys: diligently selecting local shops and farms to offer you and your family the genuine flavours of our land.

GARDEN FLAVOURS
At dawn Raffaella goes to her vegetable patch and bends over the earth with little Leonardo hopping around her.  She picks fresh, seasonal vegetables for you, grown with all her dedication and love, just as her husband and son do with their vineyards.

THE ANCIENT FLAVOURS OF TRADITION
Then Raffaella runs into the kitchen, to prepare a tasty lunch over the stove, with authentic flavours that remind Italians of the traditional Sunday lunch their grandmothers prepared for them when they were children.
The large sturdy wooden tables, straw chairs, the table set, wine ready to be uncorked, the sweet and familiar noises of a kitchen at work: you're at home, you're at Cascina Maddalena.
Do you like Raffaella's cooking? Are you hungry? Raffaella shares some of her recipes.